What Is a Spec House, Anyway?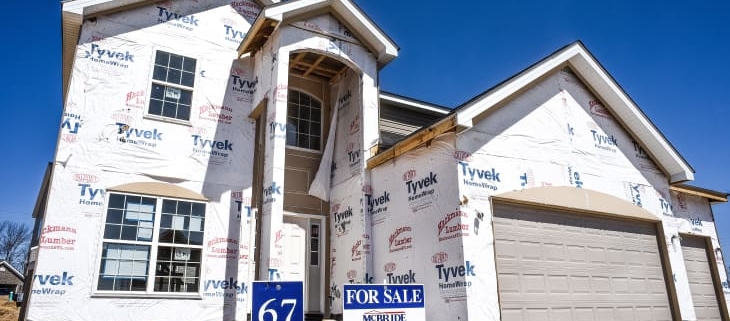 Buying real estate is risky. Building real estate, on the other hand, can be even riskier, especially when you're creating what you believe to be someone else's idea of a dream home. This is exactly what spec house builders are in the business of doing. 
If you've never heard of a spec house, or are wondering how one compares to a model home or a custom home, keep reading.
What is a spec house?
A spec home is short for "speculative home." Actually, they're usually mansions or some other type of luxury property, so think amazing locations, jaw-dropping amenities, and the highest of high-end features and finishes.
There are real estate developers with massive budgets who set out to build these stately homes with the hopes of finding a deep-pocketed buyer to take it off their hands once it's completed. Sometimes the home is snapped up by an eager buyer before it's even finished, and others sit, expensive and empty, waiting for an offer.
Spec homes are a risky business.
If you're thinking that much of the risk of a spec home falls with a builder, you'd be right. The process from land acquisition to project completion is about two years, says Manny Angelo Varas, an award-winning builder who is the founder and CEO of MV Group USA, a full-service luxury construction company. 
Add rising interest rates (which affect buyer demand), material and labor costs, and shortages or delays in said materials and labors can all increase the risk for spec builders. Aside from all that, changing design trends could also reduce buyer demand.
Still, there is great reward to be had when that spec home is sold; Varas says the typical return is about 30 percent for spec home builders.
You might assume that wealthy buyers like celebrities and titans of industry might love to add another spectacular home to their real estate portfolio. That might be true, but not every spec home finds a buyer. In fact, even experienced spec developers run into major problems. Notably, the famous spec mansion developer Mohamed Hadid declared Chapter 11 on a $250 million mansion he built in Los Angeles. Not only is it the most expensive listing LA County has ever had, it's also the largest. Right now, there's 77,000 square feet of mansion sitting on a 37-acre lot — the largest residential site ever permitted in the county, reports The Real Deal.
It should be noted that the $250 million dollar price tag is if you purchase the house completed. But for $92 million — a relative steal! — you can take over the construction at this point and customize it just the way you like it.
What is the difference between a spec home and a model home?
In areas of rapid housing development, it's not uncommon to see entire blocks of new homes pop up. These aren't spec homes; rather, these are model homes that are built with similar or even identical layouts and features that are likely to be a good fit for house hunters.
"When you think of a model home, you're really looking at a community," says Sarah Williams, founder of Societe Real Estate, a residential brokerage based in New York. While model homes are, like spec homes, built in anticipation of buyers, the level of risk is lower.
"[The model home builder] is not taking a major risk; he's just building something and replicating something he knows works already," Williams explains, noting that big developers might even have institutional backing, which helps mitigate some of the financial risk.
Note that the term "model home" could also refer to one of the in-construction homes that is kept empty — or it might be staged — so that potential buyers can see in person what will eventually be built. That model home is used for touring purposes while the others are being built, and then when the others are completed and sold, the original model home will likely also be put on the market.
Is buying a spec house a good idea?
It can be if you're buying one from a reputable builder, says Williams, who also has experience selling spec homes in Florida. Here's what she encourages her clients who are in the market to do when purchasing a spec house:
Vet the reputation of the builder, which includes seeing other homes they have built and sold.
Confirm that the home is well insured.
Hire an inspector, engineer, and any other professional who will ensure that the home was constructed correctly and is safe for inhabiting.
Williams notes that not every spec developer is a career home builder. There are some well-funded individuals for whom real estate development is more of a passion project — which is why Williams says vetting real estate developers is very important.
While the initial risk with a spec home is taken on by the builder, the risk does pass on to the buyer, like it does in all real estate transactions. 
Varas says buyers should know that spec home builders might attempt to control costs by going all-in on visible features — like high-end kitchen finishes and appliances — while cutting back on hidden features, like HVAC systems and even closets.
"Look for the brand and efficiency of the home's air conditioning or heating system and the voltage on lights and audio visual equipment," Varas says. "I always recommend our clients have their audio visual vendor do a site visit prior to closing so that they can plan the necessary upgrades to the basic pre-wiring many spec homes include."
Spec homes vs. custom homes
With all this discussion about how spec homes can be super expensive, it's important to note that a custom home can be even more expensive. Varas says with a custom home, the buyer is on the hook for everything, from purchasing the land itself to hiring the architect to covering all construction costs. Still, many people find that the end result is worth it and they have, indeed, built the home of their dreams.
A spec home, on the other hand, saves both time and money in that someone else has shouldered the burden of making all those decisions and initially footing the bill. Varas says that when a buyer purchases a spec house still under construction, they are usually able to choose their custom features so that the home is eventually completed the way they prefer. 
"Every buyer's personal budget will determine the level and caliber of customization possible," he explains. "Consulting with a professional designer is a smart investment for buyers to understand how realistic the look they envision is."
Read the full post at Apartment Therapy
If there is a home that you would like more information about, if you are considering selling a property, or if you have questions about the housing market in your neighborhood, please reach out. We're here to help.
https://haven-hr.com/wp-content/uploads/2022/09/at_real-estate_spec-house.jpeg
487
730
Haven Home Realty
http://haven-hr.com/wp-content/uploads/Haven-logo-horz-190x88.png
Haven Home Realty
2022-10-10 08:02:00
2022-09-19 21:03:03
What Is a Spec House, Anyway?