Snowy Things to do in Ohio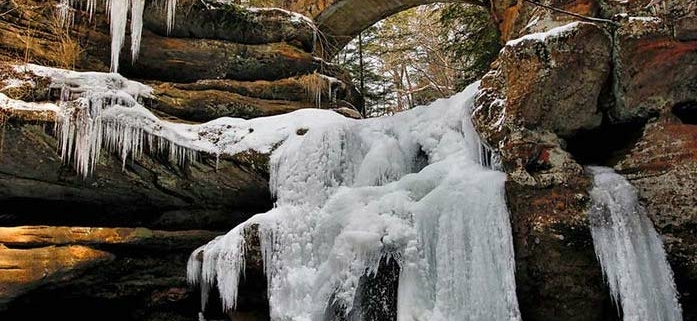 Snow fall doesn't have to mean hibernation when you're in Ohio. Tackle the slopes by skiing or snowboarding, reach ultimate speeds while sledding or hike through beautiful winter wonderlands – all on an outdoor adventure in Ohio. The snow is sure to bring endless fun this winter season! 
Hit the Slopes
Nothing beats the thrill of carving out your path while skiing in Ohio. Whether you're an expert or a beginner, there are plenty of opportunities to hit the slopes by skis or snowboard this season.
Check out the Meadow Trail at Alpine Valley in Chesterland or challenge yourself on the Alpine Trail at Snow Trails near Mansfield for a glimpse of a snow-covered wonderland. 
Skate Away
It's a picturesque scene – a glittering frozen pond surrounded by a blanket of bright, pristine snow. Check out ice skating options, especially as the temps get older and more parks and lakes open for the season.
You can also glide across the ice (or try your best to) at Ottawa Park's ice rink in Toledo or head to Cincinnati for Fifty West Brewing's ice skating rink. For even more rink time, make your way to Dublin for which has several rinks open – like the outdoor rink at Riverside Crossing Park with its amazing view of the Dublin Link Pedestrian Bridge. 
Hike to New Heights
Snow days are some of the best times to get out and explore Ohio's 75 state parks. Explore winter wonderlands with help from ODNR. There are several great hiking trails to try in winter, and it's especially fun to hike and explore hidden gems in your area.
Try popular spots like Hocking Hills State Park in Logan. This Inviting Region has several trails that take you right along winter wonderlands and frozen waterfalls. Hike to Cedar Falls and see the most famous frozen waterfall, or venture towards Upper Falls at Old Man's Cave to see the waterfall cascading down the terrain. 
Sled Downhill
Nothing says winter in Ohio more than tackling the highest sledding hills around! Feel the cold winter wind breeze through your hair as you rush down the snow-laden hill at Westlake Recreation Center Park or Fairfield's Harbin Park. Feeling adventurous? Catch the varying heights of three different sledding hills at Battelle Darby Creek Metro Park in Galloway.
A New Pair of (Snowy) Kicks
Watch your surroundings sparkle as you snowshoe throughout beautiful winter scenery at Milan Towpath Metro Park. Once an early canal and railway, this park is the perfect spot for both outdoor adventurers and history buffs alike.
Or head to Cuyahoga Valley National Park in Summit County where you can rent your own snowshoes. Don't forget to check out other Ohio spots perfect for snowshoeing. 
Reel in a Catch
When the ice is solid, head to lakes around the state and try your luck at ice fishing. Ohio offers plenty of ice fishing spots, including Atwood Lake in Mineral City, Deer Creek Lake in Mount Sterling, Indian Lake in Lakeview and Lake Erie.
Before you head out, be sure to check the conditions and have a valid fishing license. Learn more about ice fishing and ODNR's safety tips before you head out this season. 
Chute for the Stars
Hold on tight as you speed down-hill on the icy, 700-foot toboggan chutes in Strongsville. Cleveland Metroparks' The Chalet in Mill Stream Run Reservation is the perfect place for your next snowy adventure. While no snow is technically required to enjoy this thrill, a little dusting can make for a gorgeous ride. 
Tire Yourself Out
Who said biking was only a warm weather activity? Fat bikes, also called snow bikes, are the monster trucks of the bicycle world. They're just like regular bikes, but with huge tires that provide traction and float over deep powder.
Rent your own fat bike at places like Century Cycles Bicycle Shop. And then hit the trails for a ride down the Ohio & Erie Canal Towpath Trail in nearby Cleveland.
Tis the Ski-son
Little Miami State Park in Southwest Ohio has a trail corridor that offers lots of recreational pursuits, like cross-country skiing along the entire 50-mile-long length of the park. During a trek through this winter wonderland, skiers can enjoy the beautiful vistas of Fort Ancient (the largest Native American earthworks in the state).
During the winter, Hueston Woods State Park (just northwest of Cincinnati) also transforms into a wonderland of activity. Or you head up for some great 'lake effect' snow in Cleveland. The Cleveland Lakefront Bikeway is a 17-mile trail that goes from Lake Erie's shoreline and the city's eastern border with Euclid, to its western border with Lakewood.  
Wingin' It
Not every feathered friend flies off to warmer weather during the winter. Snowbirds like eagles, hawks, and owls visit Ohio. And it's not uncommon to spot a northern harrier (hawk) at Caesar Creek State Park in Warren County in the colder months. Check ODNR's Winter Birding page to learn more about where – and which – birds you can spot this season.
There's so much to do when Ohio is blanketed in shimmery snow! 
Read more on Ohio.org
If there is a home that you would like more information about, if you are considering selling a property, or if you have questions about the housing market in your neighborhood, please reach out. We're here to help.
https://haven-hr.com/wp-content/uploads/2022/12/hocking9.jpeg
409
697
Haven Home Realty
http://haven-hr.com/wp-content/uploads/Haven-logo-horz-190x88.png
Haven Home Realty
2022-12-27 13:04:42
2022-12-27 13:04:42
Snowy Things to do in Ohio