How to Mix and Match Styles if You Can't Pick Just One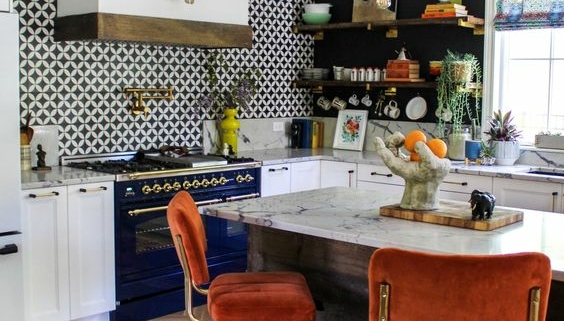 Your home should be filled with things you love, regardless of whether or not they all fall into the same interior design style category. In fact, some of the most interesting home decor styles are an amalgamation of more than just one.
"People get really worked up about mixing styles, but almost every great room has been layered with a variety of styles in one way or another," says designer Emily Wolowitz.
That said, if you want to combine colors, accents, and pieces with a bit of intention and don't know where to begin, keep the following guidelines in mind. Just know that, much like learning how to mix prints in your wardrobe, blending interior design styles is an art, not a science.
Start with a single style, then expand.
Palley & Southard owner and designer Lane Blank (with whom I work on an antique and estate jewelry business) suggests starting with one style and then throwing in a little bit of another, rather than deciding from the get-go that you're going to do half of one style and half of another. ("Half and half winds up being a hodgepodge," she cautions.)
Then, after you settle on your jumping-off point, Wolowitz encourages "that one doesn't stick too closely to one design style unless the entire house or apartment is very specific to a certain design style (think Palm Springs Modern)." This is how you create a style that is more uniquely you.
Remember that the bones of your space might count as a style, too.
You might live in a super-modern high-rise with walls made completely of windows and an all-white lacquer open kitchen design. That's a very specific look. "Some spaces dictate what style is going to be comfortable to live with," explains Blank. So in the high-rise example, filling your home with top-to-bottom antiques could feel a bit off.
However, that doesn't mean you can't decorate a particular architectural style with a different interior design style. "I think contrasting the architecture of a space with the interior decor can oftentimes be successful," says Alexia Sheinman, director at Pembrooke & Ives. "For example, a [space with] more historic, ornate architecture with contemporary furniture." Sheinman adds that "it works better as a one-way stream," meaning that modernizing something historical is a much more cohesive option than trying to make something new seem old.
Keep in mind that some traits beat out others.
"Warm always trumps cool," says Blank. "You can't have a cool room with warm accents. If you mix, it will just wind up being warm." The same goes with print, she says: "If you put any print in a room, it's no longer going to be a neutral room." And yes, that's even the case when adding a few throw pillows.
That's not to say that you can't mix any of the above, just that the overall vibe of the space will wind up being the stronger of the two. In other words, if you prefer a cool space, it's best to avoid any warm accents, and if you love a truly neutral room, trust that any prints you incorporate will pull the eye.
Find commonalities among different styles.
"One of the best ways to mix in a different style [of] furniture or decor element is to find a unifying theme in the piece," says Wolowitz.
One option for doing this, according to Marie Cloud, owner of Indigo Pruitt Design: "Start with a simple color scheme first, and filter everything through it."
And if you can't spot a shared theme, you can DIY it! As an example: "If the room is very clean and minimalist, but you are looking to incorporate vintage French chairs, I'd consider recovering them in a more contemporary cream bouclé or black-and-white graphic print," suggests Wolowitz.
Read more at Apartment Therapy
If there is a home that you would like more information about, if you are considering selling a property, or if you have questions about the housing market in your neighborhood, please reach out. We're here to help.
https://haven-hr.com/wp-content/uploads/eclectic.jpeg
846
564
Haven Home Realty
http://haven-hr.com/wp-content/uploads/Haven-logo-horz-190x88.png
Haven Home Realty
2022-04-25 08:00:00
2022-07-11 17:17:50
How to Mix and Match Styles if You Can't Pick Just One