Farmers' Markets in Columbus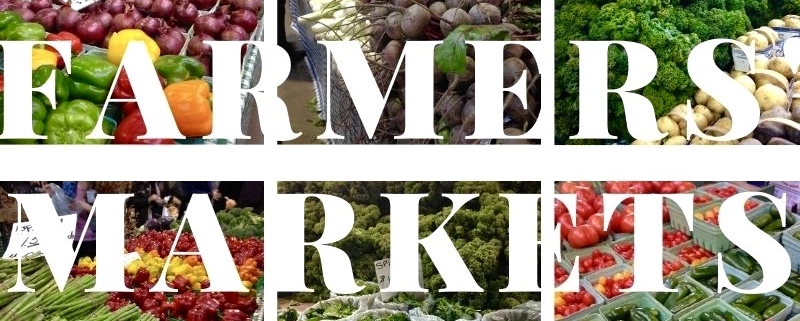 One of the many things that makes Columbus such a unique urban destination is the abundant farmland, including an expansive Amish Country, that surrounds the country's 14th largest city, making for some spectacular farmer's markets in the warmer months. Check out any of the spots below for a taste of central Ohio's high-quality meats, grains, cheeses, vegetables, fruits and so much more.
Saturday
When: Saturday | April 24 – Nov. 20 | 9 a.m. – 12 p.m.
Where: Ohio History Connection | 800 E. 17th Ave.

This staple of the community recently moved to a new location, but still offers an opportunity to meet the farmers behind your produce! Check out their website for information on what's in season and ideas on how to use produce in new ways. During summer months, patrons are invited to shop at the market or pre-order for pick-up.
When: Saturday | May 1 – Sept. 25 | 9 a.m. – 12 p.m.
Where: Banker Drive and Longshore Loop at Bridge Park | 6568 Longshore St.

Frolic in the streets of Dublin's brand-new Bridge Park District, where each Saturday they are lined with vendors hocking fresh produce, sweet treats and food, innovative retail items, and other artisan products.
When: Saturday | May 15 – Sept. | 8 a.m. – 12 p.m. (8-9 a.m. recommended for high-risk individuals)
Where: Parking lot between Broadway Station Apartments and Grove City Library | 3444 Park St.

For more than 30 years, area farmers and the Grove City Area Chamber of Commerce (GCACC) have partnered to bring the best of spring and summer's harvest to the streets of the Grove City, including peaches, homemade jellies, baked goods, tomatoes, sweet corn on the cob and more. The 2021 market will offer opportunities to participate virtually or by driving through, as well as the option to pre-order/pre-pay.
When: Saturday | June – Oct. | 8 a.m. – 12 p.m.
Where: North Market Outdoor Pavilion | 59 Spruce St.

One of the oldest and largest markets in the area with nearly 30 vendors, the North Market Farmers' Market allows customers to buy fresh-picked produce directly from local farmers. Additionally, local entrepreneurs are on site selling hand-made and vintage items such as art and jewelry to create a fully experiential Farmer's Market. Of course, you can always check out the nearly 40 vendors inside the North Market as well!
When: Saturday | May 22 – Oct. 9 | 9 a.m. – 12 p.m.
Where: Behind Westerville City Hall | 21 S. State St.

Along with bringing locally grown food and farm products from area bakeries, nurseries, and homesteads to the Westerville Community, the Uptown Westerville Farmers Market also offers free (donation recommended) yoga on the green at 8 a.m. prior to the market opening for the day.
When: Saturday | May – Oct. | 9 a.m. – 12 p.m. (9-10 a.m. reserved for high-risk individuals)
Where: Old Worthington | 773 High St.

Since 1987, vendors have lined the sidewalks of Old Worthington, selling everything from fresh produce, flowers, baked goods, meats, cheeses, and other homemade goods. Local shops often run specials as well.
Tuesday
When: Tuesday and Friday | May 21 – Oct. 15 | 10:30 a.m. – 2 p.m.
Where: Pearl Alley (between Gay and Broad) | 19 N. Pearl St.

Originally established in 1989 by local farmers as a way to allow transit users and downtown workers with easy access to fresh, affordable produce, Pearl Market expanded in 2001 to also welcome local artisans to join the mix. The historic Pearl Alley now takes on an almost festival-like feel, allowing residents and visitors to shop local from a mix of healthy, farm-fresh foods and innovative foods. In addition to in-person shopping, curbside car or pedestrian pick-up is also available.
When: Tuesday | May 25 – Sept. 28 | 4 – 7 p.m.
Where: Hilliard United Methodist Church parking lot | 5445 Scioto Darby Rd.

Vendors offer a variety of goods, varying slightly each week, you can expect to find anything from cakes, sauces and root beer floats to flowers and garden plants, to honey, fish, and cheese.
Wednesday
When: Wednesday | June 2 – Sept. 1 | 3:30 – 6:30 p.m.
Where: Main Parking Lot | 1777 E. Broad St.

This free public market offers a mix of local produce, baked goods, specialty foods, handmade items and health and beauty products. The market accepts EBT for all qualifying purchases and offers incentive dollars through Produce Perks Columbus.
When: Wednesday | May 19 – Oct. 27 | 4 – 7 p.m.
Where: Tremont Pool Parking Lot | 2850 Tremont Rd.

Enjoy a mid-week treat and grab all the whole uncut fresh produce, pre-packaged food and plants your heart desires at the Get Fresh Upper Arlington Farmers Market. Taking place rain or shine, the 2021 market is piloting a "Neighbor Foods" program in which patrons have the opportunity to "buy another" for a neighbor in need during the first market of the month, and all contributions will be distributed the following day at the First Community Church Heart to Heart Food Pantry. Also new in 2021 will be yoga at Northam Park and live music during the event.
Thursday
When: Thursday | May 20 – Sept. | 4 – 7 p.m.
Where: Dawson Ave. between Main St. and Bryden Ave. | 2376 E. Main St.

Billed as a place "Where Farms Meet Main Street," in addition to buying all the classic market goods, visitors can experience live music, children's events, and food trucks.
When: Thursday | May 29 – Sept. 25 | 9 a.m. – 12 p.m.
Where: Canal Winchester Historical Complex | 100 N. High St.
Whether it's delicious fresh vegetables, fruits & herbs, mouth-watering home baked goods, or something pretty to display, the list is always changing at the Canal Winchester Farmers' Market. To comply with COVID-19 guidelines, a clear entry and exit point will be established, and guests are asked to leave their pets at home.
When: Thursday | June 24 – Sept. 16 | 4 – 7 p.m.
Where: Market Square | 200 Market St.

The Healthy New Albany Farmers Market is a community staple, where you can find seasonal offerings, an inviting array of produce, fresh baked goods, savory pastries and locally made honey, coffee and beautifully hand-crafted products.
Friday
When: Tuesday and Friday | May 21 – Oct. 15 | 10:30 a.m. – 2 p.m.
Where: Pearl Alley (between Gay and Broad) | 19 N. Pearl St.
If there is a home that you would like more information about, if you are considering selling a property, or if you have questions about the housing market in your neighborhood, please reach out. We're here to help.
https://haven-hr.com/wp-content/uploads/Farmers-Markets.jpeg
600
800
Haven Home Realty
http://haven-hr.com/wp-content/uploads/Haven-logo-horz-190x88.png
Haven Home Realty
2021-06-05 09:55:10
2021-06-05 09:55:10
Farmers' Markets in Columbus