12 Best Christmas Tree Farms in Ohio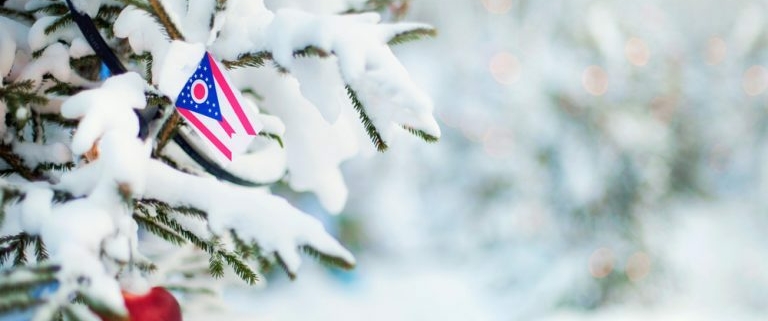 Make plans this holiday season to visit one of these local Christmas tree farms to find the perfect Christmas tree to deck your halls!
Storeyland Christmas Tree Farm, Burghill
Situated right on the eastern edge of the Buckeye State, Storeyland Christmas Tree Farm in Burghill is perfect for the residents of Youngstown, Ohio.
With over 100 acres of bright green Christmas trees, this family-owned farm may be one of the most popular Christmas tree farms.
At Storeyland Christmas Tree Farm, you can choose between cutting down your own handpicked Christmas tree or picking a pre-cut tree.
Plus, there are tons of free added bonuses at this lovely farm. Hop on a free hayride to get to the Christmas trees, warm up by the bonfire, and even sip on a cup of free hot chocolate.
Sugar Pines Farm, Chesterland
Sugar Pines Farm has a wide array of different Christmas tree varieties. Do you prefer fir, spruce, or pine? Sugar Pines Farm has all of them – both cut your own and pre-cut.
It would make the perfect Ohio day trip!
This 100-acre farm is just 40 minutes outside of Cincinnati and has much more than trees. Pay a visit to Santa Claus, hop on a hayride, snack on complimentary s'mores, and purchase a wreath to go along with your tree.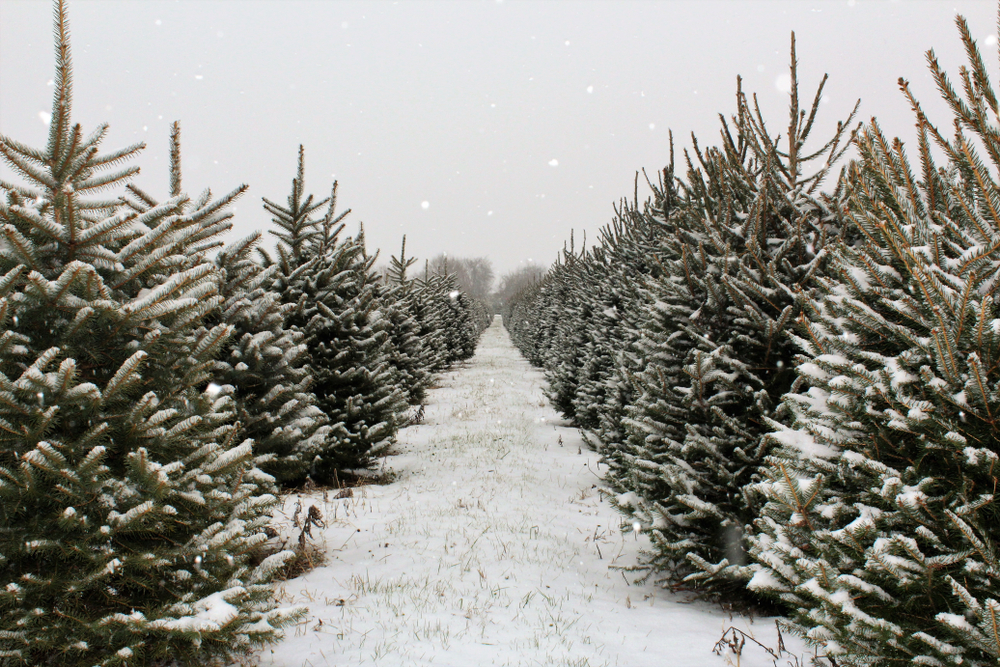 The Farms at Pine Tree Barn, Wooster
With a whopping 150 acres to its name, the Farms at Pine Tree Barn is one of the largest farms in the state.
And it's one of the oldest too! Established in 1952, the Farms at Pine Tree Barn has welcomed generations of families to its land to find the perfect Christmas tree.
With 150 acres of land, this Ohio tree farm has every type of Christmas tree you could want – both cut your own and pre-cut – as well as so much more!
Choose from white pines, Fraser firs, Canaan firs, and blue spruce trees.
And there are many other activities as well! Ride on a horse-drawn wagon, purchase lovely garlands and wreaths, and warm yourself up with a cup of coffee or hot chocolate.
www.thefarmsatpinetreebarn.com
Manners Christmas Tree Farm, Jefferson
Located an hour outside Cleveland, the Manners Christmas Tree Farm gets a lot of business every single winter – and for good reason.
This small, 40-acre farm has everything you need. Choose between three varieties of fir trees, three varieties of spruce trees, and a variety of pine trees.
While there, you can also climb aboard a horse-drawn wagon and munch on tasty apple fritters. Oh, and your dog can come along on this family field trip as well!
www.facebook.com/MannersChristmasTreeFarm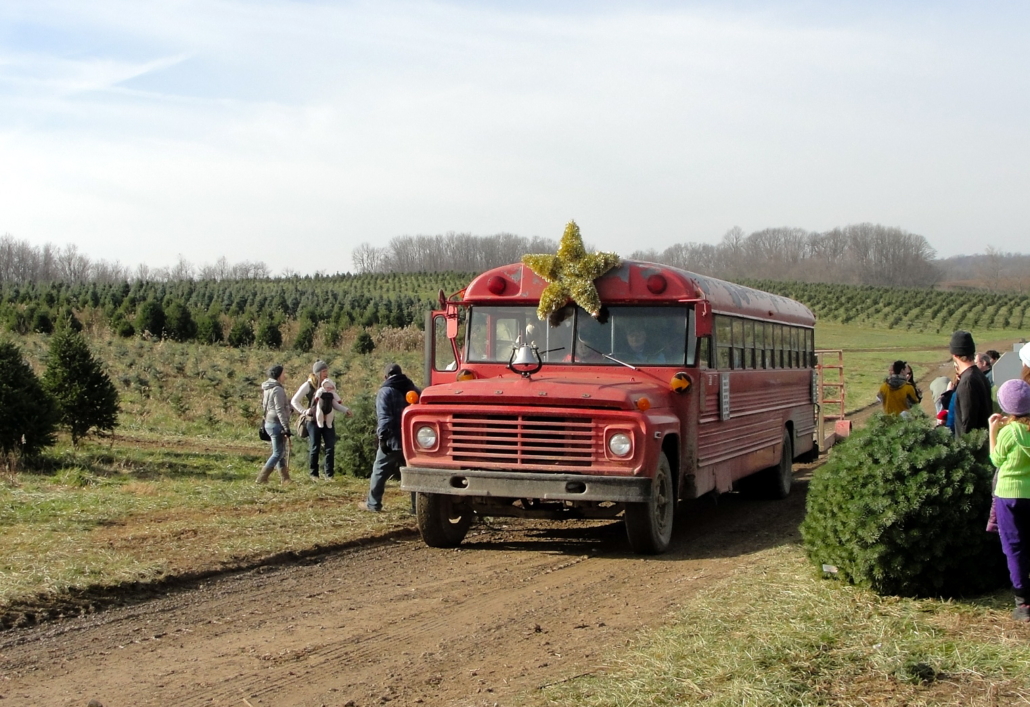 Timbuk Farms, Granville
Timbuk Farms is one of the best Christmas tree farms near Columbus, Ohio. Situated about 45 minutes out of Ohio's capital city, Timbuk Farms boasts 300 acres of land!
With seven different varieties of Christmas trees of all different shapes and sizes, you'll be sure to find the perfect one for your family's home.
In addition to all of the large trees, Timbuk Farms also sells what they call "Charlie Brown Trees." These tiny trees are very affordable and are perfect for little kids or as tabletop decorations.
And while you're there, why not stop to say hi to Santa and Mrs. Claus?
Cackler Family Farms, Delaware
As an alternative to Timbuk Farms, there's Cackler Family Farms. Only 40 minutes away from Columbus, Cackler Family Farms also boasts a wide variety of Christmas tree types.
Since it opened in 1989, Cackler Family Farms has grown over 20,000 Christmas trees! This year, you can pick a tree for yourself from this lovely farm!
Will you opt for blue spruce, Canaan fir, Fraser fir, Norway spruce, Serbian spruce, or white pine?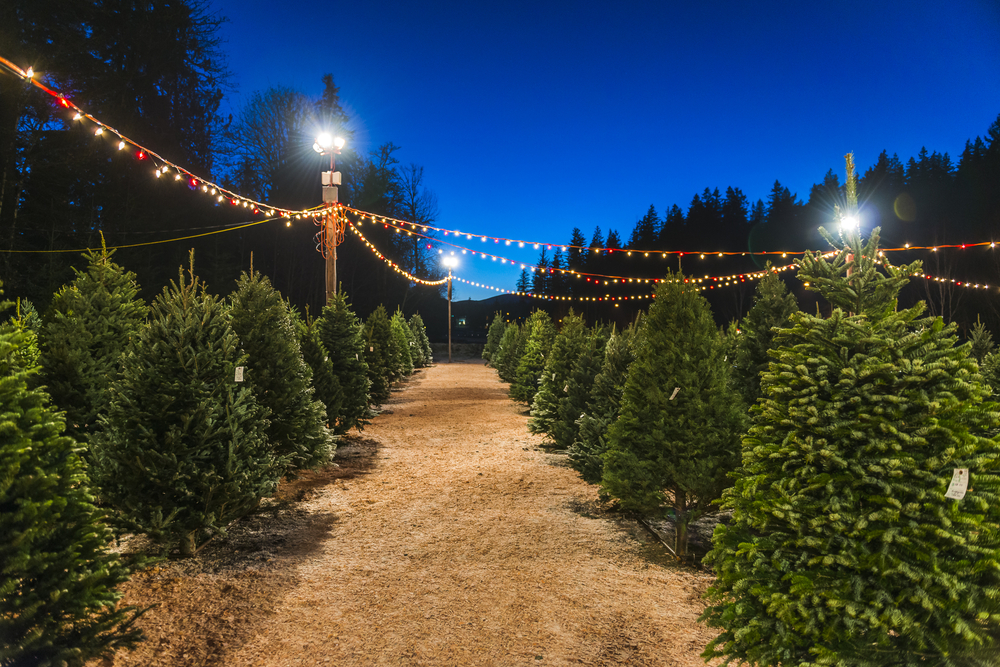 Country Cabin Tree Farm, Sunbury
One of the closest Christmas tree farms near Columbus is Country Cabin Christmas Tree Farm in Sunbury.
This lovely Christmas tree farm has a few different varieties ranging from six to ten feet tall, both cut your own and pre-cut.
And while you wait for your tree to be cleaned and tied up for you, head inside the farm's cabin! While there, warm up with a cup of apple cider, do a little Christmas shopping.
And consider purchasing a beautiful wreath to hang on your front door.
Bartels Farm, Hamilton
Situated near Cincinnati and Dayton, Bartels Farm boasts a prime location. But that's certainly not all that this Ohio Christmas tree farm has to offer.
Bartels Farm hand plants all of the Christmas trees on their land, so you know the workers have looked after them with the utmost love and care.
It is important to note that this also means the farm has a small number of trees, so they sell out quickly! If you'd like a tree from Bartels Farm, be sure to get there within the first few days after they open!
In addition to finding the perfect hand-planted Christmas tree, you can also sip on hot chocolate and admire the beautiful hand-woven wreaths.
Nana and Pap's Christmas Tree Farm, Felicity
One of the coolest Ohio Christmas tree farms is Nana and Pap's Christmas Tree Farm. Located about 45 minutes outside of Cincinnati, Nana and Pap's Christmas Tree Farm is the perfect place to find your family's tree.
While picking a Christmas tree is definitely the highlight, you can also pet the adorable animals at the petting zoo. And enjoy a tractor-drawn carriage ride.
And you might even decide to make a weekend out of it!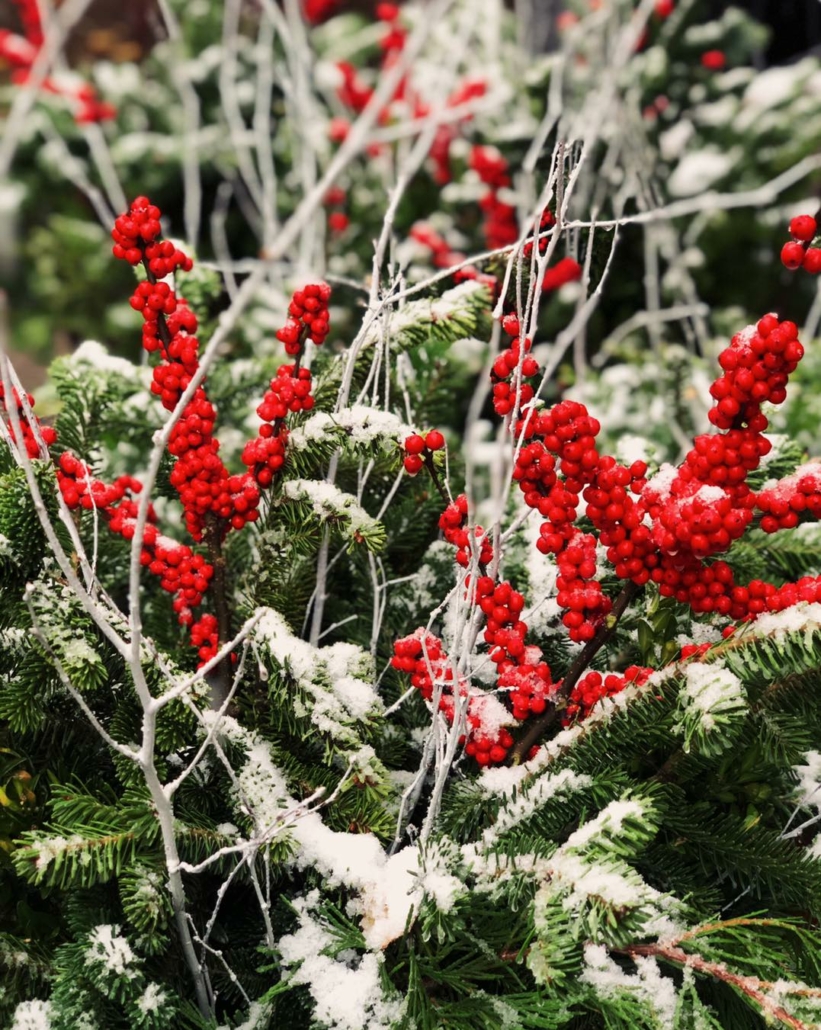 Skylar Brook Farm, Orrville
This little 35-acre farm in Orville surely knows how to make use of its land. While it may be one of the smallest Christmas tree farms in Ohio, you can find everything you need and more.
Choose between blue spruce, Norway spruce, Douglas fir, Canaan fir, Fraser fir, and a white pine tree for your home.
As an added bonus, Skylar Brook Farm also sells a variety of alpaca products. So in addition to buying a lovely tree, you can also stock up on gloves, hats, socks, and even stuffed animals made from alpaca fur.
TwinsBerry Tree Farm, Shreve
TwinsBerry Tree Farm in Shreve is one of the only pesticide-free Christmas tree farms in Ohio. And, even so, this farm has managed to produce some of the tallest Christmas trees in the state, reaching up to 20 feet tall!
While at TwinsBerry Tree Farm, you'll have your pick between concolor firs, Fraser firs, blue spruces, and white pines.
Visiting this Ohio Christmas tree farm would make for an epic weekend getaway!
If there is a home that you would like more information about, if you are considering selling a property, or if you have questions about the housing market in your neighborhood, please reach out. We're here to help.
https://haven-hr.com/wp-content/uploads/Christmas-Tree-Farms-in-Ohio-Flag-768x511-1.jpeg
511
768
Haven Home Realty
http://haven-hr.com/wp-content/uploads/Haven-logo-horz-190x88.png
Haven Home Realty
2021-11-29 11:04:16
2021-11-29 11:04:16
12 Best Christmas Tree Farms in Ohio