28 Essential Columbus Restaurants According to Eater

Eating in Columbus is like experiencing a microcosm of the U.S., a mid-size land of milk, honey, and Buckeyes. The city is home to immigrant traditions and rich culinary history, from the fine dining legend holding court among the cobblestone streets and red brick buildings in German Village, to the food truck parked on hustling, bustling High Street meting out birria tacos, to the hidden gem tucked away inside a strip mall serving Ghanaian classics to neighborhood aunties and uncles.
Many of these businesses take advantage of the city's impressive, historic architecture, but plenty more restaurants have withstood the test of time in less auspicious homes. Take a look through the windows of a once rusty hundred-year-old gas station to see crowds Instagramming pancake balls powdered with sugar and served with an assortment of sweet sauces. Or seek out the small brick building off the highway, a post-Prohibition relic that's become a go-to dive for regulars, newbies, and anyone getting off work in need of revival. Then check beneath the neon sign around the corner for a bedrock of Buckeye culture where alumni and new kids on the block meet over fresh, old-school doughnuts.
If Columbus is a microcosm of the nation, it has also experienced the difficulties of the COVID-19 pandemic that impacted all American food communities. Many of the city's most notable restaurants, standby watering holes, and beloved businesses have closed their doors. The places that populate this list are not the only deserving ones, but you can see the trails of hard work and determination that allowed them to adapt to the new realities of pandemic dining.
You'll sample a bit of history and a lot of global flavors as you eat your way around the city's essential restaurants, but every meal is quintessentially Columbus. So come take a seat, grab a menu (or load it up from a QR code), and gear up for a feast. And as always, tip generously, mask up when asked, and indulge.
Speck Italian Eatery
Take the 40-minute trip north to the city of Delaware to visit Speck, where chef Josh Dalton serves playful twists on Italian dishes that are joyfully nontraditional (think: confit chicken wings and balsamic glazed Ibérico ribs). Start the meal off with sfincione (Sicilian pizza) with rich olive oil and flaky sea salt, or the humboldt fog toast layered with browned butter, radicchio, and sage. Then feast on octopus and grilled branzino, and end with the budino featuring amaretto and macadamia.
Asterisk Supper Club
With all the dark wood, ornate chandeliers, and floor-to-ceiling bookshelves piled high with literary classics, stepping inside the Asterisk Supper Club is like being transported back in time. Succumb to the sultry yet sweet atmosphere and cozy up to one of the marble tables. Eclectic with a flair for sophistication, Asterisk stays true to its name as a supper club centered around a social dining experience, including a menu for high tea featuring tea sandwiches and sweet delicacies. Come back during supper time to try the pork chops and scallops.
Kuya Ian's Bistro
Located next to the Filipino grocery store Chuchay's Supermarket, family-owned Kuya Ian's serves flavorful renditions of Filipino classics like crispy yet tender whole fried bangsilog, beautifully butterflied longsilog, stir-fried pancit bihon redolent with soy sauce, and artfully topped halo-halo for dessert. After your meal, stop by next door to pick up some snacks (like ube pandesal, crispy chicharon, and dried mangoes), drinks (Mogu Mogu lychee or kalamansi juice), and more for your ride home.
Wycliff's Kitchen
Located in a strip mall, chef Wycliff Nduati's restaurant offers a gateway to the sights, sounds, and aromas of Kenya. The karanga ng'ombe embodies the essence of beef stew, nyama choma is an ode to street food in the form of grilled goat, and the stewy karanga mbuzi is rich in flavor and tradition. If you don't know what to order, just ask Nduati himself.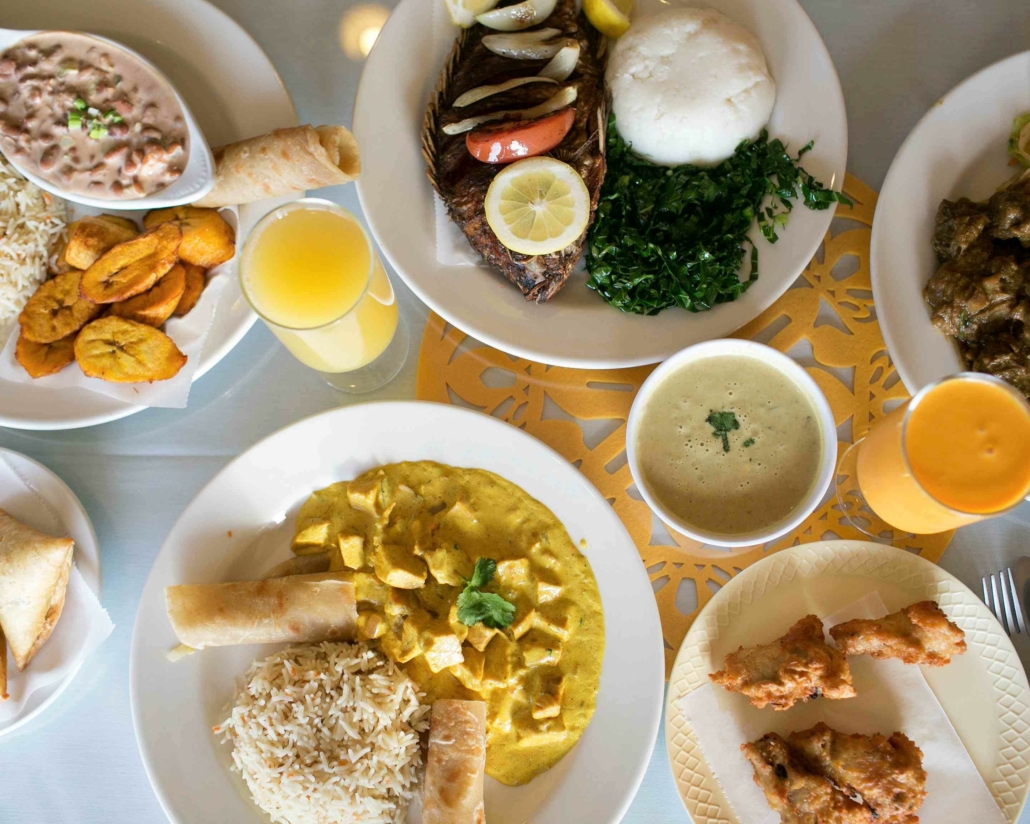 Drelyse African Restaurant
Lisa Bannerman has served exciting Ghanaian food for more than 10 years, introducing plenty of locals to the colorful traditions and flavors of her home country. Dining in Drelyse feels like a big family reunion. Laughter fills the restaurant, mingling with the voices of aunties and uncles reminiscing and sharing news, as savory aromas waft from the kitchen in comforting clouds. Then your order hits the table: peanut butter goat soup with rice balls, fried fish and banku (made with a fermented mix of corn and cassava dough), waakye (rice and beans) with goat stew, and jollof rice (spiced long-grain rice made with tomatoes and onions) with turkey tail. For the full experience, get your hands dirty and forego the utensils. You'll be licking your fingers and slurping from the bowl anyway.
SGD Dubu
Taking its name from the Korean neighborhood of Sogong-Dong in Seoul, SGD makes classic, traditional Korean cuisine at locations across the Northeast and Midwest. Try the richly spiced soondubu jjigae that comes with tofu and your choice of protein; japchae marinated in a house-made sauce and tossed with vegetables and beef; and bibimbap served on a hot stone and paired with seasoned vegetables.
Meshikou Ramen/Chikin
Strip mall hotspot Meshikou Ramen keeps customers coming back for creative appetizers and steaming hot bowls of slurpable noodles. Start with the K.F.C. wings in sweet garlic soy sauce and the Meshikou karaage dipped in spicy citrus sauce. Then explore the brothless mazemen and soup ramen sections, especially the fireball paitan ramen amped up with spicy garlic paste and the Meshikou black ramen slicked with black garlic oil. The restaurant's fried chicken proved so popular they opened a spinoff next door, Meshikou Chikin, where the chicken is infused with mouth-watering flavors like Pacific dry rub, peppercorn teriyaki, and Indo-sambal. Come back again and again to try the whole menu.
Huong Vietnamese Restaurant
Originally opened under the name Phuong Hoang ("phoenix"), this family-owned restaurant has served traditional Vietnamese cuisine in Columbus since 2005. Casual, welcoming, and homey, Huong feels more like a family gathering than a formal restaurant. The extensive menu includes bún bò huế with spicy and savory lemongrass soup; bánh bôt loc filled with pork, shrimp, and fried onions; and bánh xèo dò bién flavored with coconut milk and paired with fish sauce on the side. Since the start of COVID, Huong has gone above and beyond to customize carryout meals for different dining situations, packing meals to be reheated in the microwave or consumed immediately, and providing extensive directions on rehe
Belle's Bread
Tucked away in the Japanese marketplace located on Kenny Centre Mall, Belle's Bread is a family-owned and -operated, French-inspired Japanese bakery. Takashi Takenaka opened the business after immigrating from Japan in 1972, and he pays homage to childhood treats with his red bean roll, frank roll, and curry and boiled egg doughnuts. The bear-shaped strawberry cream bun is all over social media, but the best-kept secret is the Mont Blanc roll with its layers of delicate, airy sweet cream and chestnuts.
Xi Xia Western Chinese Cuisine
Xi Xia serves vibrant dishes from the hearths of the Hui people, a predominantly Muslim minority in the Ningxia region of Western China. Look out for dishes such as da pan ji stirred noodles fragrant with hot peppers, potatoes, and cilantro; dry pork intestines stir-fried with spices, chile, and hot sauce and served with warm rice; braised beef belly with yuba; and hong shao rou, soy-sauce braised pork belly paired with fried tofu and egg.
Los Agavez Taqueria
Parked on a corner of High Street, Los Agavez Taqueria offers a range of Mexican street food. There are a bunch of different tacos, tortas, and huaraches, but most people come by the food truck for Columbus's take on the social media birria sensation. The birria tacos at Los Agavez have crispy stew-battered tortillas, stuffed with sweet, tangy beef stew and thick with cheese.
The Crest
Chef Jon Gruseck and pastry chef Aaron Clouse continue to impress with their interpretation of modern Appalachian cuisine at this farm-to-table, chef-driven restaurant in the Clintonville neighborhood. The kitchen focuses on local, seasonal Ohio flavors and classy twists on comfort foods, with dishes like goat cheese balls; walleye fish fry with tartar and cured lemon; duck served on a bed of beet puree, dill, and parsley; and brown beans served with roasted Freedom Ranger and gritbread. Finish off your meal with the fruits of the forest dessert: spiced sponge cake topped with fig leaf syrup and candied ginger. If you feel like ordering pizza instead, visit the Crust, the quirky pizza kitchen operating out of the Crest, and try the pesto or traditional pepperoni pies.
Buckeye Donuts
A cornerstone of Ohio State Buckeye culture, 24-hour Buckeye Donuts has catered to students around the clock since 1969. Menu classics include vanilla and chocolate Long Johns, apple fritters, and cake doughnuts — though it's worth considering the red velvet cake doughnut with cream cheese and the Buckeye doughnut, covered in rich chocolate and stuffed with peanut butter. The gyros deserve an honorable mention as well. Whether you stop in after an early morning run or for a late night snack, Buckeye Donuts will be there for your carbohydrate needs.
Si Señor Peruvian Sandwiches
Located in the heart of Grandview, Si Señor turns out Peruvian sandwiches like tender chicharron peruano paired with pickled red onions and sweet potato mayo, fried criollo fish topped with rocoto mayo, and pasta salad tossed with red peppers and onions in cilantro cream. Due to COVID, Si Señor is only open during lunch hours, but the fan-favorite sandwich menu remains, and you can end your midday meal with a slice of the satisfyingly moist tres leches cake.
Mazah Mediterranean Eatery
Operating as a family business since 2009, Mazah remains a Grandview staple for eats and sweets of the Mediterranean. Chef and owner Maggie Ailabouni impresses with her baba ghanoush served with fresh pita and extra virgin olive oil; creamy tzatziki mixed with garlic and mint; shish tawook soaked in a garlic lemon marinade and served with a side of garlic sauce; and char-grilled kefta kebaba topped with tomatoes. For dessert, get the kenafi, syrupy sweet and layered with cheese, or the baklava, which is flaky, crispy, and flavored with honey in all the right ways.
CRMD
CRMD challenges Columbus with wild, unconventional, and unapologetic takes on ice cream. The menu is packed with nostalgic flavor combinations like Fruity Pebbles and cereal milk, plus twists on classics such as cookies and CRMD (cookies and cream — but purple). Pro tip: Order your scoops in an egg waffle cone, aka a puffle cone.
Katalina's
Katalina's is housed in a 100-year-old gas station in the middle of the Harrison West neighborhood. The restaurant is known to many as the home of the Pancake Balls (bite-sized pieces of fluffy pancakes stuffed with your choice of Nutella, dulce de leche, or pumpkin-apple butter) and the Sweet 'N' Spicy Bacon (thick cut and bursting with savory-sweet flavor). The rest of the menu includes a Breakfast Chick 'Wich featuring Southern-fried chicken coated with corn chips; okonomiyaki topped with eggs, bacon, piri-piri, and citrus aioli; and a Mazatlan slow-roasted pork and egg sandwich made with thick old-world bread and Katalina's secret sauce (licking your fingers won't help you figure out the secret behind the sauce, but you should do it anyway).
The Alibi Bourbon & Cocktail Lounge
Located in the Short North Arts District, Alibi is a self-described Prohibition-style bar, but the drinks are anything but staid and the decorations anything but dreary. The bar prides itself on its ability to concoct cocktails catered to every visitor, and the menu is organized visually to direct patrons to the perfect drink based on alcohol level and flavor. If you prefer something approachable and sweet, go for the Cuffing Season, with its combination of coffee liqueur and cinnamon-infused sugar. But if your tastes lean toward spirited and bitter, try the Mile High Club with Angel's Envy whiskey and Amaro Montenegro.
Tasi Cafe
If you blink too fast you'll miss the charming Tasi Cafe. Hidden on a small corner between two side streets in the Short North Arts District neighborhood, the quaint cafe serves fun twists on breakfast, lunch, elevenses, snack time, and supper. Check out the challah French toast topped with sweet caramelized bananas, the open-faced smoked salmon sandwich with capers and cream cheese on focaccia, or the steak skillet paired with tomatoes, runny egg, and freshly toasted bread that is designed for dipping. Must-trys on the drink menu include the caipirinha, Irish coffee, hot chocolate toddy, or cold brew.
Momo Ghar
Momo Ghar is a casual spot to enjoy the tastes of Nepal and Tibet. Originally tucked inside international grocery store Saraga, during the pandemic the restaurant found a new home among the bustling sights and sounds of the historic North Market. Diners squeeze in for juicy, well-stuffed momos served with a house-made savory spiced red sauce. Chef and owner Phuntso Lama has also earned a massive following for her Kathmandu-style jhol momo served in a bath of spicy broth, juicy pan-fried kothey, and Newari Kathmandu-style chicken choila served with roasted beaten rice.
Wolf's Ridge Brewing
At Wolf's Ridge Brewing, fine dining meets craft brewing. Located in downtown Columbus, the microbrewery and restaurant serves items like baked Bankston paired with candied pecan and pomegranate gastrique; smoked mussels served with smoked butter, bratwurst, and grilled baguette; and duck pot pie stuffed with root vegetables and fingerling potatoes. The drinks menu is equally ambitious, with coffee coconut stouts and smoked wheat ales with names like Taco Ninja and Dire Wolf Coffee Joy. Be sure to also check out Understory, the team's winter 2022 expansion, which is housed in the historic Open Air School building in Clintonville.
Ray Ray's Hog Pit
Originating as a humble food truck located in Franklinton, Ray Ray's has made a name for itself as one of Columbus's top destinations for soulful, old-fashioned barbecue. The team has expanded into a brick and mortar location in Granville where they offer meat-and-three-style meals, and also has several additional trucks around the city. But head for the original location and order the meat sampler — which includes smoked brisket, pulled pork, jerk chicken, dry rubbed ribs, and hot links — to see everything Ray Ray's has to offer. Get ready for the meat sweats.
Mikey's Late Night Slice
Mikey's maintains an iron grip on Columbus's late night pizza scene with slices as big as your head and unique pies in flavors like the Spicy-Ass Pepperoni seasoned with Sriracha and chile flakes. Look out for pizza-of-the-week flavors, like the collaboration with Hot Chicken Takeover featuring Nashville hot chicken and pickles. Dip your slice into their (secret recipe) Unicorn Sauce and admire the decorations featuring the shop's wild mascot, Pizzaface. If you visit the High Street location, be on the lookout for the speakeasy hidden inside the restaurant.
El Lugar
Small, quaint, and cozy, this Spanish bar serves up tapas and pinchos inspired by the streets of Barcelona. The go-to is the jamon Ibérico, sliced thin and draped over crispy potato chips, which pairs beautifully with a tall glass of red wine. Don't sleep on El Lugar's wide selection of Espinaler canned seafood either. If the light bites don't fill you up, walk on over to El Lugar's sister restaurant, Alpine, and try the raclette fladen (cheese-stuffed bread) and traditional käsespätzle (an overflowing pot of egg noodles, onions, and cheese).
Pistacia Vera
The sweetheart of German Village, Pistacia Vera is home to a vast selection of pastries, sweets, and drinks reminiscent of a French-leaning European cafe. The delicate macarons, croissants, and pan au chocolat are fan favorites, but the real treat is the chocolate bombe: rich, smooth, and covered in chocolate. Order up a warm Valrhona mocha or pistachio latte to go with your treats, and grab a seat by the window to enjoy the moment.
Lindey's
A walk down the historic cobblestoned streets of German Village leads you to the front doors of Lindey's, a classy piece of culinary history. Envisioned by Sue Doody back in 1981, Lindey's has remained a Columbus landmark for 40 years by serving up elegance on a platter. Classic dishes include the Georges Bank cod layered with sweet corn puree paired with marbled potatoes, brined duroc pork topped with caramelized pear and apple chutney, and tournedos of beef dressed in bearnaise. Whether you're visiting for a first date, your 50th anniversary, or a quiet dinner out, you'll leave Lindey's telling friends and colleagues about the restaurant in hushed, reverent tones.
Plank's Cafe & Pizzeria
Plank's Cafe and Pizzeria is a down-to-earth watering hole, which has been serving locals (and curious visitors) since 1939. Throughout the years, the restaurant has built an integral place for itself in the community. Venture in during the wee hours of the morning and you'll find yourself surrounded by local health care workers getting off their shifts, but visit mid-afternoon and you'll find a more lively crowd of regulars and sports fans cheering for the next goal, homerun, or touchdown. The pizzas arrive on slightly sweetened crusts, covered in generous layers of sweet tomato sauce.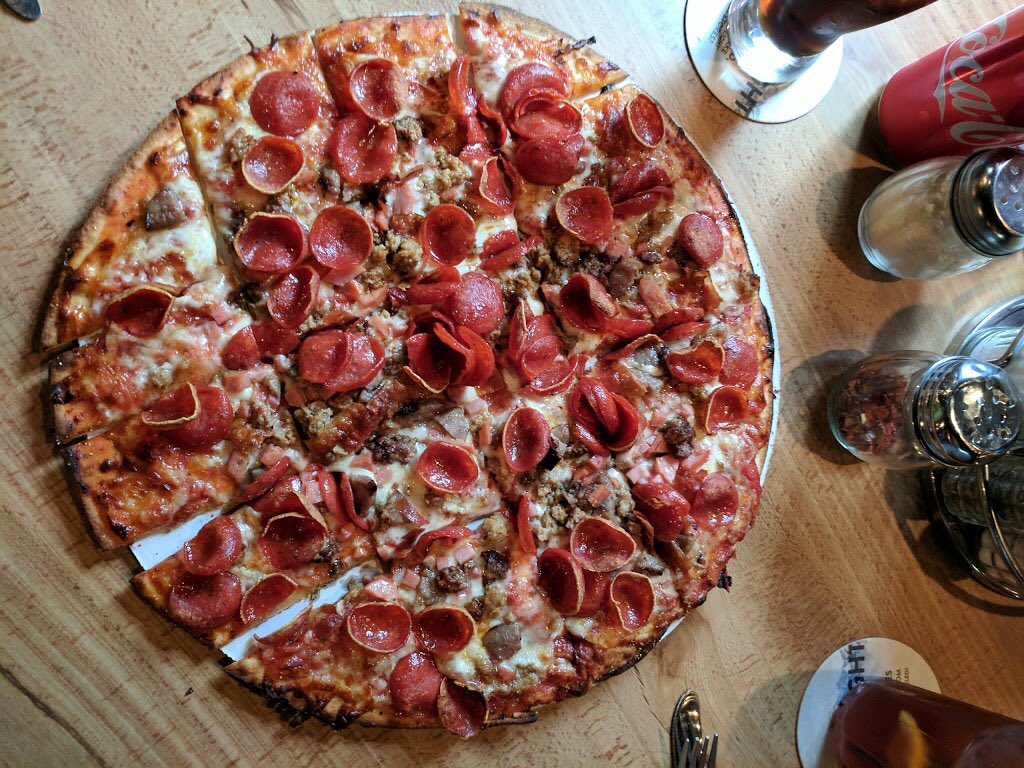 Kolache Republic
Bringing a bit of the Czech Republic to the hearts and stomachs of Ohioans, Kolache Republic is a neighborhood staple in German Village for sweet dough pastries. Somewhere between a classic yeast doughnut and a Danish, the kolaches are filled with ingredients like blueberry cheese, sweet cheese, and sausage with egg and cheese, among others. Visit in November for their popular Thanksgiving kolache filled with juicy roasted turkey and house-made stuffing, served with a side of cranberry sauce and gravy.
Read more at Eater
If there is a home that you would like more information about, if you are considering selling a property, or if you have questions about the housing market in your neighborhood, please reach out. We're here to help.
https://haven-hr.com/wp-content/uploads/2022/09/north-market.jpg
900
1200
Haven Home Realty
http://haven-hr.com/wp-content/uploads/Haven-logo-horz-190x88.png
Haven Home Realty
2022-09-05 15:39:23
2022-09-05 16:47:56
28 Essential Columbus Restaurants According to Eater