8 Earthy, Cozy Kitchen Trends We're Seeing for Fall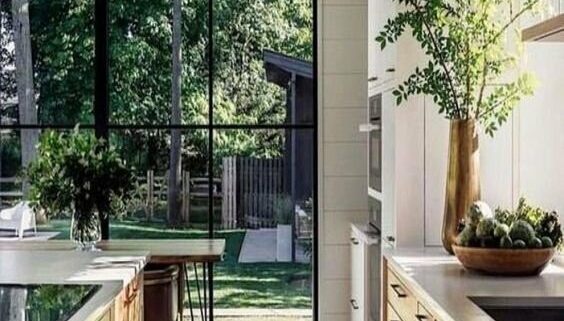 As we prepare to round out 2021 in the coming months, one thing is for sure—the kitchen remains key. "We've spent so much time in the kitchen over the past 18 months, so people are really being mindful of how kitchen design is so essential and has a major impact on how people inhabit their homes," interior designer, Peti Lau, explains.
When it comes to fall 2021 kitchen trends, what can we expect to see, well, everywhere? We spoke with eight design experts who weighed in with their predictions.
Dining Tables In The Kitchen
Remember the eat-in kitchen of your youth? Well, it may just be making a comeback. Erin Kestenbaum says we can expect to see dining tables in place of islands this year. "I believe we're all craving cozier, more lived-in spaces and that extends into the kitchen, where warmth and patina continues to trend," she says. As Lau states, "A kitchen is the heart of the home and we spend so much more time at home now, that the kitchen brings the family together to be nurtured."
Islands As Furniture Pieces
Those who do choose to opt for islands are taking a different design approach, Claire Staszak says. "We also particularly love the trend of islands looking more like furniture pieces or tables and less like big cabinet blocks." Prep tables are also on the rise, Katherine Thewlis notes. "These tables usually have legs as opposed to closed sides," she explains. "This exposes more of the flooring, making the room feel much larger. It's a more rustic, utilitarian look which can provide balance to a modern kitchen."
Custom Storage Solutions
We'll be seeing more upgrades "that make your kitchen work harder for you while maximizing every square inch of storage," Kestenbaum says. What features, exactly, may be rising in popularity? "Produce drawers, in-drawer knife storage, under-sink drawers, and integrated cutting boards," Kestenbaum notes. We wouldn't be at all surprised if this largely stems from spending more time cooking at home and really utilizing our cooking spaces over the past year and a half.
Work From Home Solutions
And on the note of spending more time at home, Dominique Fluker says we can expect our kitchens to continue to serve double duty and function as makeshift offices. "Be prepared to see many flexible open kitchen models, as people are still working from home and need alternative workspaces," she comments. "Modular kitchens highlight smart shelves, space-saving features, and maximized corners. Additionally, we may see an insurgence of kitchen nooks, as they are a cozy work-from-home option."
Darker Tones
Wood tones in the kitchen will "become darker and richer," Meg McSherry believes. Emily White agrees. "Rather than the flawless, white kitchens we know and love, people are taking a much more 'lived-in' approach with dark color palettes, beautifully stained wood cabinetry, and organic countertop materials, like marble and quartzite, with lots of depth and movement," she comments. Lau predicts the same—"Instead of blue, grey, and white kitchens, the new kitchen trends are more warm, calm, and earthy tones."
Jessica Brigham believes that autumnal hues in particular will reign when it pertains to cabinets. "The moodiness of burgundys, magentas, and even deep blues bring in such a fabulous pop of color and beckon the chillier, crisper autumnal days ahead," she notes.
Note that the resurgence of upper cabinets themselves is also a key trend. Says Thewlis, "Cabinet doors are going to have a moment again with impressive hardware and cut-out details on the door fronts."
If there is a home that you would like more information about, if you are considering selling a property, or if you have questions about the housing market in your neighborhood, please reach out. We're here to help.
https://haven-hr.com/wp-content/uploads/fall-kitchen.jpeg
888
564
Haven Home Realty
http://haven-hr.com/wp-content/uploads/Haven-logo-horz-190x88.png
Haven Home Realty
2021-09-21 07:33:59
2021-09-21 07:33:59
8 Earthy, Cozy Kitchen Trends We're Seeing for Fall